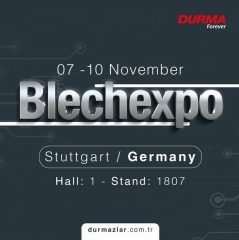 Blechexpo 2023
Date:
07-10 ноября 2023 г.
EMO Hannover 2023
Date:
18-23 сентября 2023 г.
Международный промышленный форум 2023
Date:
30 мая - 01 июня 2023 г. 2023 г.
Place:
г. Киев, пр. Броварской, 15, станция метро «Левобережная», Международный выставочный центр
Manufacturing and industrial equipment
Employees of the engineering department "ALISTA" for many years of experience have become real professionals of our company. We are confident in our skills, and therefore we confidently tackle tasks of different complexity and volume. The main goal of "ALISTA" is to help our customers solve engineering issues related to the installation of new metalworking equipment at enterprises. Our feature is the delivery and implementation of only advanced technologies that allow our customers to be one step ahead of their competitors.
When we propose to replace outdated equipment to our customer, we do not just expect to change one machine to another, but we would like to completely change the customer's idea of ​​production technology. Employees of "ALISTA" believe that this significantly increases the intellectual component of the production process. The latest metalworking machines and equipment literally take the company to a new level of work.
We would like the metalworking equipment in Ukraine to be completely renewed at last. After all, the renewal of technologies means a transition to high European quality standards, and long-obsolete machines are a stone that can pull the entire production to the bottom in an instant. We always adhere to this position and believe that it is thanks to it that ALISTA has gained a reputation as a reliable supplier, from which you can buy high-quality metalworking equipment without risks.
We are always ready to be your technical experts!
COMPANY COUNTERPARTS